Let's Plan Your Trip
*Your travel expert will be in touch as soon as possible via email with some suggested holiday plans here.
Limited Time Offer!
4Days Discover Sydney + The Blue Mountains
Price Includes:

✔

Hotel Stay

✔

Breakfast

✔

Tour with licensed guide

✔

Entrance passes as per itinerary

✔

Return Airport Transfer
Shedule: Daily Departure
Price Includes:

✔

Hotel Stay

✔

Breakfast

✔

Tour with licensed guide

✔

Entrance passes as per itinerary

✔

Return Airport Transfer
Schedule: Daily Departure
Why Book Now?
✔

Value Add: visit to Mrs Macquaries Point for amazing views


✔

Value Add: visit to the Sydney Harbour, The Gap


✔

Value Add: See Homebush Bay - site of the 2000 Olympics


✔

Value Add: Visit the Blue Mountains Classy Village


✔

Value Add: Take a photo with the Koala Bear


✔

20% Savings from Normal Price


✔

FREE: RM100 Travel Voucher


✔

Stand a chance to win a FREE 3D2N Holiday to Krabi


✔

FREE: RM0 Service Charge for Flight Tickets (We will find and book the cheapest available flights for you)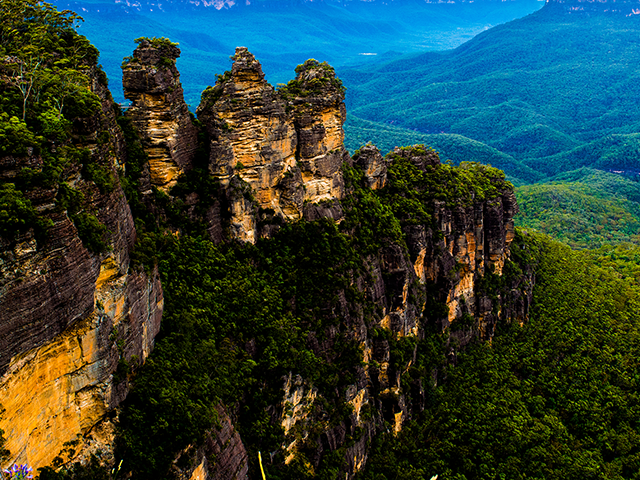 Let's Plan Your Trip
*Your travel expert will be in touch as soon as possible via email with some suggested holiday plans here.
Highlights
★ Meet & Greet service upon arrival in airport
★ Visit the Blue Mountains Classy Vintage Village
★ Explore Blue Mountains National Park
★ Encounter The Australian Wildlife
★ See the spectacular Three Sister Rock Formation
★ FREE Sydney Walking Tour

✔ Daily breakfast as specified
✔ Fully guided tours as specified
✔ Entrances as specified in the itinerary
✔ Hotel accommodation as specified
✔ All transfers inclusive as specified
✔ English speaking guide
✔ COMPLIMENTARY Australian Visa

✘ Tour guide and driver tips(Own)
✘ MSIG Travel insurance (RM 58 per person)
✘ Personal Expenses
✘ International Flight Ticket

DAY 1 : ARRIVE SYDNEY
➤ Upon arrival, you will be welcomed by our representative and take your Airport Shuttle Coach to your hotel for check in.
➤ Overnight in Sydney.
➤ Standard check in time 1400hrs.

DAY 2 : SYDNEY CITY TOUR (Breakfast)
➤ After breakfast, join your SIC Tour around Sydney. Start the tour with The Rock is situated at the very base of the Harbor Bridge, the Rocks is a lively and popular spot brimming with boutique stores, art galleries and world-class restaurants. Long ago the area was home to the indigenous Gadigal people. European settlers claimed the land in 1788 and the color and character of their lifestyle can be felt as you wander through the historic buildings.
➤ From the Rocks you will get a stunning view of the Sydney Harbor Bridge, one of the largest steel arch bridges in the world. Designed in 1924 to connect the northern and southern shores of this growing city, the Harbor Bridge opened in 1932 and is one of the citys most well known and photographed icons.
➤ Travel through Chinatown, right in the heart of Sydney. This area captures the excitement of Asian street life with its bustling restaurants, noodle bars, bargain shopping and Asian supermarkets. Its bright streetscape and lively atmosphere will make you feel as if you are in the heart of Shanghai.
➤ Mrs. Macquaries Chair sits high on the peninsula known as Mrs. Macquaries Point and is an exposed sandstone rock that was hand-carved into a bench by convicts in 1810. It is said that Mrs. Macquarie, the wife of the then New South Wales Governor, was known to visit the area to take in the views.
➤ From Mrs. Macquaries Chair you will get another birds eye view of the Sydney Opera House, arguably the most recognizable icon in the world. This World Heritage listed building is considered a masterpiece of late modern architecture and a world class performing arts venue.
➤ Again, have your camera ready. You are now heading to the entrance of Sydney Harbour, known as the Gap. A dramatic ocean cliff on the eastern coast of Sydney, the Gap will give you breathtaking views of the New South Wales coastline.
➤ Australians are renowned for their relaxed and outdoor lifestyle and Bondi Beach is a prime example of this. One of the most famous beaches in the world, it is a captivating location brimming with lifeguards, surfers and tanned beach-goers. You can wander along the shoreline and dip your toes into the cool ocean or treat yourself to afternoon tea (own expense) from one of the many cosmopolitan cafes and restaurants.

DAY 3 : SYDNEY BLUE MOUNTAIN ADVENTURE (Breakfast)
➤ After breakfast, make your way to join SIC tour. Discover the spectacular Blue Mountains and see native wildlife whilst you explore World Heritage Blue Mountains National Park. This rugged and beautiful region forms part of the Great Dividing Range, linking tropical north to temperate south, while dividing coastal cities from the vast Outback. Pass by Homebush bay, site of the 2000 Olympics.
➤ Discover Leura Village, a delightful blend of groomed gardens and quaint shops, enjoy free time to wander the streets of Leura.
➤ Next we stop at Echo point and see the famous Three Sisters Rock formation and hear the ancient Aboriginal legends of the impressive rock formation.
➤ Arrive at Scenic World and join the optional Blue Mountains Rides - Scenic Railway, Cableway or Skyway (own expense). These rides are a great way to see the steep valleys, canyons and Three Sisters rock formation. Enjoy a short stop at Narrow Neck and Cahill Lookouts for impressive mountain scenery.
➤ Next we enjoy an afternoon encounter at Featherdale Park and have your photo taken with a cuddly koala, see wombats, kangaroos, dingoes and cute little fairy penguins. Our last stop will be at Homebush Bay, the venue of the Sydney 2000 Olympic Games. Here you will have the opportunity to catch the river cat ferry back to Sydney and enjoy a relaxing cruise along the Parramatta River (own expense). If you do not wish to join the ferry, the coach will arrive in Sydney approximately 5.45pm. Hotel drop offs to most city hotels are available, your coach captains will ask you at the end of the day where you would like to be dropped off.
➤ Note: Dep: 815 & Ret: 5.45pm

DAY 4 : FULL DAY SHOPPING - DEPARTURE (Breakfast)
➤ After breakfast, free for own leisure.
➤ Later, you will be transferred for your departure flight.
➤ Standard check out time 1000hrs.


1. Price is per person on twin sharingbasis
2. Confirmation will be sent with the indicated cutoff date and available payment methods
3. Reconfirmation - You are requested to make full payments as per invoice by the the given cutoff date
4. Guaranteed - Booking's will only be Guaranteed once FULL PAYMENTS are received in our account
5. Transfers & Tours - Will be provided on Seat In Coach basis (Sharing basis) unless stated otherwise.
6. Reservations are subject to cancellation until fully paid.
7. Additional levies, government charges & other applicable fees, including additional taxes, surcharges and visa fees specific to your departure date or flight routing, may apply and are beyond our control.
8. Seasonal surcharges and blackout dates may apply depending on date of travel.
9. These prices are a guide to the best price and are subject to change without notice.
10. Prices are subject to change without notice, due to matters outside our control, such as adverse currency fluctuations, fuel surcharges, taxes and airfare increases, please enquire for further details.