Let's Plan Your Trip
*Your travel expert will be in touch as soon as possible via email with some suggested holiday plans here.
Limited Time Offer!
6Days Delhi Agra Jaipur [Flight Inclusive]
Price Includes:

✔

Hotel Stay

✔

Meal

✔

Tour with licensed guide

✔

Entrance passes as per itinerary

✔

Return Flight Ticket
Shedule: Daily Departure
Price Includes:

✔

Hotel Stay

✔

Meal

✔

Tour with licensed guide

✔

Entrance passes as per itinerary

✔

Return Flight Ticket
Schedule: Daily Departure
Why Book Now?
✔

Stay in 5* Resort Hotels


✔

Private Conducted Tours


✔

20% Savings from Normal Price


✔

FREE: RM100 Travel Voucher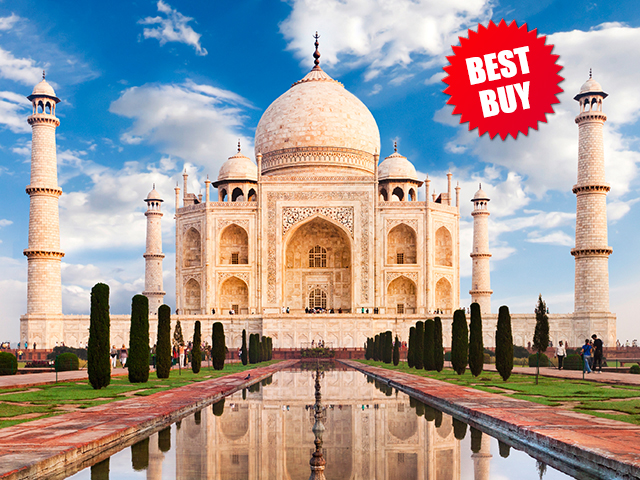 Let's Plan Your Trip
*Your travel expert will be in touch as soon as possible via email with some suggested holiday plans here.
Highlights
★ Travel to the Pink City on India
★ Explore the Palaces & Forts in the Desert City of Rajasthan
★ See the 7th World Wonder - The Monument of Love
★ Enjoy Authentic Moghul Cuisine
★ Go Shopping at some of Asia's Best Bazaars
★ Tour Conducted by our own office, DHESU India

✔ Return Flight Ticket wt all applicable taxes
✔ Meet & Greet Services
✔ Return Airport Transfers
✔ Hotel Stay as Indicated
✔ Meals as per Itinerary
✔ Tours as per Itinerary
✔ English Speaking Guide

✘ Indian Visa Fees (RM 230)
✘ MSIG Travel Insurance (RM 58)
✘ Tour tips(USD3-4 per person per day)

DAY 01: ARRIVE NEW DELHI
➤ Visiting India for the 1st time? Wanting to travel to the most travelled Circuit of India? This very famous tour is known as the Golden Triangle Tour the most popular tourist circuit of India. The itinerary comprises of the three famous cities of India. Delhi(The Capital), Agra(City of the Taj) and Jaipur(Pink City of India) are famed cities for its grandeur, glory and history.
➤ p/s: it is said that 'Every Tourist of the world must visit the Taj Mahal at least once in a lifetime'
➤ Welcome upon arrival at Delhi International airport by DHESU India representatives.
➤ After briefing by representatives transferred to hotel and overnight at Hotel.

DAY 02: TRAVEL TO JAIPUR (Breakfast/Lunch/Dinner)
➤ After Breakfast at Hotel, drive to Jaipur. On arrival check into hotel for lunch.
➤ Thereafter proceed for sightseeing of Jaipur City. The origins can be traced back to the 18th century during the reign of Jai Singh II. Prepare to look beyond the bustling metropolis to find its historical charm, such as the magnificent palaces, temples, lush gardens and pink plastered stone that gives Jaipur the popular name 'Pink City'.
➤ You will also visit the pure white marbled temple - The Birla Mandir. Unlike the traditional ancient Hindu temples, this is built with a modern approach. Apart from the religious idols, pictures and figures of several religious saints, philosophers and historical achievers, like Socrates, Buddha, Zarathustra and Confucius, are also included in the temple. A work of art, this temple truly represents architectural beauty, in a modern form.
➤ Evening you will be taken for Bazaar Shopping.
➤ Dinner & Overnight at Hotel in Jaipur.

DAY 03: TOUR JAIPUR (Breakfast/Lunch/Dinner)
➤ After Breakfast at Hotel, proceed to visit Amer Fort situated on top of the Amber Hill. Enroute visit the famous Lake Palace and Hawa Mahal (Palace of Winds) which is a palace in Jaipur. It is named so because it was essentially a high screen wall built so the women of the royal household could observe street festivities while unseen from the outside. Constructed of red and pink sandstone, the palace sits on the edge of the City Palace, and extends to the zenana, or women's chambers.
➤ Therafter feel like a maharaja from the past as you ride up to Amber Fort on an elephant back outfitted with traditional Indian draperies! As you walk around the hilltop palace, constructed at the end of 16th century, learn about this excellent example of Rajput architecture from your guide. Admire breathtaking views of Maota Lake from the fortress as well as the palace's ornate design and unique architectural elements.
➤ After lunch at Hotel, proceed with tour of Maharaja City Palace & Janter Manter (Observatory) Jaipur is also known as world's number 1 Gem cutting center. Gemstone both precious and semi-precious are brought here from all over the world and cut and polished before being re-exported. We visit one such center and showroom, which has been servicing the Royal family for last 500 years.
➤ Dinner & Overnight at Hotel.

DAY 04: TRAVEL TO AGRA (Breakfast/Lunch/Dinner)
➤ After breakfast at hotel, depart by surface for Agra.
➤ Enroute 40km. of Agra is the Jama Mosque, Fatehpur Sikri is an awe inspiring structure. The mosque was built in 1571 under the patronage of the Mughal Emperor, Akbar the Great. The mosque is one of the largest in the world. The temple, quite like all other Mughal architecture, is built on a raised platform and has a large central dome with surrounding minarets and other smaller domes. The exalted courtyard is used for religious gatherings now, where devout Muslims gather to pray. Jama' Mosque in Fatehpur Sikri in Uttar Pradesh is built with a combination of red sandstone and fine, white marble.
➤ After lunch at hotel proceed to TAJ MAHAL, one of the 7-wonders of the world built by Shah Jahan to immortalize his love for his wife, Mumtaz Mahal. The construction is said to have taken 22 years commencing from 1631 with 20,000 craftsmen. (Taj Mahal Closed on Friday).
➤ Thereafter visit a cottage industry to witness skilled craftsmen doing fine marble inlay work. Proceed to Agra Fort built during the great Mughal era. This Fort built in 1569 on the banks of the Yamuna River has a number of exquisite buildings and several royal halls within its portals.
➤ Dinner & Overnight at Hotel.

DAY 05: PROCEED AND TOUR DELHI (Breakfast/Lunch/Dinner)
➤ After an early breakfast depart for Delhi.
➤ After lunch at local restaurant in Delhi, Proceed with sightseeing tour of the Old and New Delhi. Places covered include the Rajghat, India Gate, the Parliament and Secretariat buildings, Bahai Lotus Shaped Temple. Photostop view of Qutub Minar-the highest stone tower in India.
➤ Evening proceed for Bazaar Shopping. Delhi is a fantastic place to shop. There's an astounding array of wonderful stuff : handicrafts, textiles, clothing, carpets, jewellery and a kaleidoscope of saris. The Bazaar's in Delhi estimate to have some 25,000 people within its confines at any given time and also attracts many foreign tourists. It is known as a place with the lowest prices.
➤ After farewell dinner transferred to airport for your return flight back home.


1. Price is per person on twin sharingbasis
2. Confirmation will be sent with the indicated cutoff date and available payment methods
3. Reconfirmation - You are requested to make full payments as per invoice by the the given cutoff date
4. Guaranteed - Booking's will only be Guaranteed once FULL PAYMENTS are received in our account
5. Transfers & Tours - Will be provided on Seat In Coach basis (Sharing basis) unless stated otherwise.
6. Reservations are subject to cancellation until fully paid.
7. Additional levies, government charges & other applicable fees, including additional taxes, surcharges and visa fees specific to your departure date or flight routing, may apply and are beyond our control.
8. Seasonal surcharges and blackout dates may apply depending on date of travel.
9. These prices are a guide to the best price and are subject to change without notice.
10. Prices are subject to change without notice, due to matters outside our control, such as adverse currency fluctuations, fuel surcharges, taxes and airfare increases, please enquire for further details.