Let's Plan Your Trip
*Your travel expert will be in touch as soon as possible via email with some suggested holiday plans here.
Limited Time Offer!
6Days Best of Nepal [Flight Inclusive]
Price Includes:

✔

Hotel Stay

✔

Meal

✔

Tour with licensed guide

✔

Entrance passes as per itinerary

✔

Return Flight Ticket
Shedule: Daily Departure
Price Includes:

✔

Hotel Stay

✔

Meal

✔

Tour with licensed guide

✔

Entrance passes as per itinerary

✔

Return Flight Ticket
Schedule: Daily Departure
Why Book Now?
✔

FREE: Upgrade to Private Transfers & Tours


✔

Value Add: Boat Ride on the Phewa Lake


✔

Value Add: Meet the Living Goddess of Nepal in person


✔

Value Add: Hiking Trip to hv a Sunrise View of the Anapurna Range


✔

Value Add: Cultural Performance wt a Typical Nepalese Dinner


✔

Value Add: Transfers provided for Shopping at Thamel Bazaar


✔

20% Savings from Normal Price


✔

FREE: RM100 Travel Voucher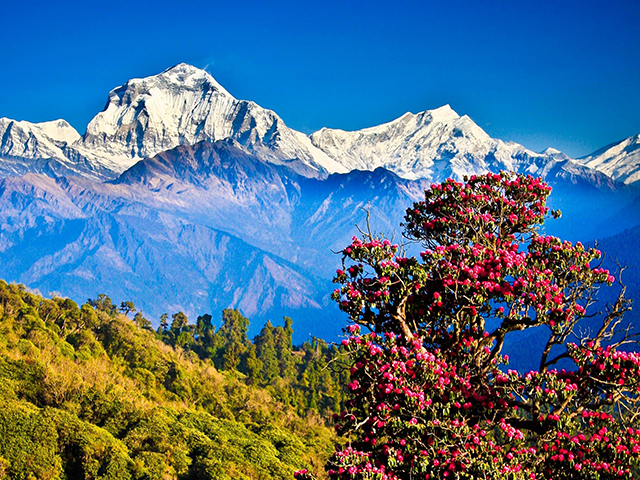 Let's Plan Your Trip
*Your travel expert will be in touch as soon as possible via email with some suggested holiday plans here.
Highlights
★ The No.1 Selling Tour of Nepal
★ Tour Kathmandu Nagarkot Pokhara
★ Visit Swayambunath - World's most glorious Buddhist Stupa
★ Boatride on Phewa Lake against a fish-tail summit over 6900m.
★ Hiking trip for a panoramic sunrise view of Annapurna range
★ Traditional Nepalase Dinner + Cultural Show
★ All Meals & Entrances Inclusive
★ Shopping at Thamel Market
★ Tour conducted by Dhesu Nepal

✔ Meet & Greet Services
✔ Return Airport Transfers
✔ Hotel Stay as Indicated
✔ Meals as per Itinerary
✔ Tours as per Itinerary
✔ English Speaking Guide

✘ Nepal Visa (RM 130)
✘ MSIG Travel Insurance (RM 79)
✘ Tour tips(Own)
✘ Currency surcharge applicable based on current ROE

DAY 01: ARRIVE INTO KATHMANDU
➤ Nepal is a country of amazing extremes, home to the worlds highest mountains, historic cities and forested plains where tigers and rhinos trundle at ease. In fact enchantment is everywhere for anyone in search of Shangri-La.
➤ Upon arrival met by Dhesu Nepal representatives and transferred to your hotel.

DAY 02: TRAVEL TO POKHARA (APPROX200KM/6.5HRS) (Breakfast/Lunch/Dinner)
➤ After Breakfast proceed to Pokhara.
➤ Pokhara - Pokhara valley is one of the most picturesque spot of Nepal. The beauty of Pokhara is enhanced by its lovely lakes, which have their source in the glacial region of the Annapurna range of the Himalayas. Pokhara is the only place in the world to provide such a dramatic views in a sub-tropical setting. Machapuchre, for example, is only 28 km from Phewa Lake and not a single mountain range intervenes between the two.
➤ Phewa Lake - The second largest lake in the Kingdom, is the center of all attraction in Pokhara. It is the largest and most enchanting of the three lakes that add to the resplendence of Pokhara. Here, one can sail or row a hired boat across to the water or visit the island temple in its middle. The eastern shore, popularly known as lakeside or Baidam, is the favorite home base for travelers and is where most of the hotels, restaurants and handicraft shops are located.
➤ Arrive Pokhara, check in, lunch at Hotel.
➤ Evening, enjoy a boat ride on the Phewa Lake set against a fish-tail summit rising over 6,900 m.
➤ Lunch, Dinner and overnight at the Hotel.

DAY 03: TOUR AND EXPLORE POKHARA (Breakfast/Lunch/Dinner)
➤ Rise early to take a short hiking trip to Sarangkot (subject to weather, which takes an hour to reach to the top to view a panoramic view of the sunrise on the Annapurna range. Return to hotel for breakfast.
➤ Later proceed on a sightseeing tour to Pokhara . Visit Gupteshowre Cave, where you will find a statue of the Hindu God, Shiva. It is said that this statue formed naturally by the following waters of the cave. Also visit the David's Fall where you can see a waterfall appearing from nowhere into many pools and finally disappearing after flowing through small cascades into cracks in the ground.
➤ Rest of the day at leisure to enjoy the serenity of the mountains.
➤ Lunch, Dinner and overnight at the Hotel.

DAY 04: TRAVEL BACK TO NAGARKOT VIA KATHMANDU (APPROX200KM/6.5HRS (Breakfast/Lunch/Dinner)
➤ After Breakfast proceed to Kathmandu.
➤ After Lunch visit Bhaktapur City that still retains a medieval charm and visitors are entreated to myriad wonders of cultural and artistic prides. It is like going back to the 17th century. The movie 'Little Buddha' was filmed in this city.
➤ Thereafter drive to Nagarkot located at an altitude of 2,175m. Nagarkot is known as the Himalayan Village on Top of The World. This place used to be the nature retreat of the royals with its unobstructed mountain panorama, which extends from Annapurna in the west to Everest in the east. Bask in the pleasant climate.
➤ You will be taken to the lookout point to have amazing sunset views.
➤ Dinner and overnight at Hotel

DAY 05: TRAVEL TO KATHMANDU (APPROX35KM/ 1.5HRS) (Breakfast/Lunch/Dinner)
➤ Early morning rise to enjoy the sunrise and lose yourself in the lush greenery.
➤ Thereafter proceed for the tour of Pashupatinath , the majestic temple with golden roof. It is considered as being amongst the most important Hindu pilgrim center. Located on the banks of the Bagmati River one can even witness cremations taking place here.
➤ Later visit Bouddhanath . This colossal stupa is one of the biggest in the world and also serves as the center of Tibetan Buddhism.
➤ After lunch proceed on Sightseeing of Kathmandu City . Discover Durbar Square , which is presently known as Hanuman Dhoka, a name derived from the statue of Hanuman, the monkey devotee of Lord Ram. Many of the palaces and temples in Durbar Square were built during the reign of the Malla Kings and are beautiful examples of Newari Architecture, Nepal's most distinctive architectural style. Visitors to the Durbar Square of Kathmandu will be amazed by the architectural wonders spanning several centuries. This important historical attraction has been declared a UNESCO World Heritage Site. There are more than a dozen buildings and statues of note in this small area. They include: Kasthamandap the wooden building that is said to have given the city of Kathmandu its name , Taleju Temple one of the oldest temples in the square, this three-roofed temple with its pyramid shaped bases, is an example of the typical Newari architectural style.
➤ Visit The Living Goddess of Nepal . A living, breathing goddess called Kumari Devi. It is the custom of worshipping a pre-pubescent girl as the source of supreme power is an old Hindu-Buddhist tradition that still continues to this day in Nepal.
➤ Later proceed to Thamel Market for Bazaar Shopping.
➤ Late evening enjoy a superb cultural show with a typical Nepalese dinner . Overnight at Hotel.

DAY 06: FREE DAY TO EXPLORE KATHMANDU & DEPART (Breakfast)
➤ After Breakfast proceed for the Sightseeing of Kathmandu City.
➤ Discover Patan Durbar Square -It is an enchanting melange of palace buildings, artistic courtyards and graceful pagoda temples. This Square was the former Royal Palace Complex which was the center of Patan
➤ Rest of the day free for personal activities or at leisure till time to depart.
➤ *Arrive home with exciting memories of the Himalayan Kingdom!
➤ *For Air Asia Flight ETD: after1200hrs
➤ *For Malaysian Airlines/Royal Nepal/Malindo Air Flights ETD: after2100hrs


1. Price is per person on twin sharingbasis
2. Confirmation will be sent with the indicated cutoff date and available payment methods
3. Reconfirmation - You are requested to make full payments as per invoice by the the given cutoff date
4. Guaranteed - Booking's will only be Guaranteed once FULL PAYMENTS are received in our account
5. Transfers & Tours - Will be provided on Seat In Coach basis (Sharing basis) unless stated otherwise.
6. Reservations are subject to cancellation until fully paid.
7. Additional levies, government charges & other applicable fees, including additional taxes, surcharges and visa fees specific to your departure date or flight routing, may apply and are beyond our control.
8. Seasonal surcharges and blackout dates may apply depending on date of travel.
9. These prices are a guide to the best price and are subject to change without notice.
10. Prices are subject to change without notice, due to matters outside our control, such as adverse currency fluctuations, fuel surcharges, taxes and airfare increases, please enquire for further details.